The "Bali Starling" under threat of extinction
By Christian Fritz - 2007-04-15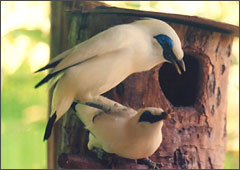 Hard Rock Cafe Visited the West Bali National Park as a first step to save Jalak Bali

Hard Rock Cafe Bali together with our clients and friends in media visited West Bali National Park (Taman Nasional Bali Barat

? TNBB) on Tuesday, 10 April 2007 as a starting effort for the campaign to save the critically endangered Jalak Bali (Leucopsar rothschildi). The trip was a reforestation program of Jalak Bali's habitat in West Bali National Park.

The program, which was sponsored by Oakley, Soda Ice, BMW Tour & Travel, the Beat, and Bali & Beyond was also joined by our friends from Kuda Putih and Surf Time. It was a three hour drive from Kuta towards Cekik, in the west Bali district of Negara where the 18,000 hectare park is located.

A total of 50 Intaran tree (Azadirachta indica) was planted in the dry, savanna zone of the West Bali National Park. These trees are found largely in the area and later when fully growned, the trees could produce an abundant source of fruit for Jalak Bali consumption in the wild.

During the trip, Hard Rock Cafe also proposed an agreement with Hendrik Siubelan, Head of West Bali National Park, to work together on the campaign to save Jalak Bali. The campaign, which will start end of April includes a fund raising program from the sale of merchandiseand other ways as well as a fund raising concert aimed to promote the program and create public awareness. "We hope our campaign will trigger the public to follow in our step to save these beautiful birds", said Bagus,A&P Manager of Hard Rock Cafe Bali.

By the end of this campaign, Hard Rock Cafe will have created a canopy made of steel of 200 meter-squared of area with height of 15 meter in West Bali National Park. This giant steel cage, having condition similar to the outside environment , will act as a temporary enclosure for Jalak Bali to adapt to before being released into the wild.

Hard Rock Cafe would like to thank our sponsors, and friends in media for supporting the trip to West Bali National Park. Let this be our first step to ensure the recovery and the return of Jalak Bali back to its habitat.

It such a shame that Jalak Bali, a symbol to this Isle of Paradise and drawn in many paintings, yet not many have seen them. Last Tuesday we visited the park and spent 3 hours outdoor but no sign of Jalak Bali was seen. Although we saw about a hundred of the birds in the park breeding compound, they are all locked up in captivity.

One of the problem is that these birds aren't afraid of human. Once they are released to the wild from captivity , they will likely get caught because they fly to the nearby villages. These birds sell about 20-40 mill rupiah per tail.

The fundaraising program that we are doing until the end of the year will be collected to create a giant steel cage in West Bali National Park (about 200m2 in area, and 15m in height). This will act as a last phase for the birds before being released to the wild. The environtment will be similar inside/outside the cage and strictly no human contact.

We need as much help as we can possibly get locally and internationally.

Hopefully there are sponsors out there who are willing to support the cause.

http://www.tnbalibarat.com (West Bali National Park website in Bahasa Indonesia) http://www.jessica.macnimble.com/balimynahs.html (in English)

For more information on Hard Rock Cafe Bali program to save Jalak Bali, please contact Ten Swaratama at +62.361.755661 or email at ten@hardrock.co.id.