Kids at the pool
By Chris - 2009-11-06
Bali-based humanitarian swimmer Monte Monfore and Australian swim instructor Glenn Schapel teamed up for their second annual Kid's Day at the Pool for physically and mentally challenged children. This year's fun fest was hosted by Holiday Inn Resort Baruna Bali located in Kuta.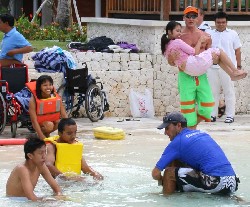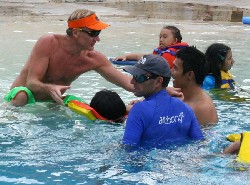 15 children from Yayasan Pembinaan Anak Cacat (YPAC) enjoyed swimming, splashing, fun and games at the beachside pool. Following the swim the resort treated the kids to lunch at Palms Restaurant.
"I jumped at the chance when Glenn proposed this last year," said California swimmer Monte. "I can't tell you how fun this is! It's extremely gratifying to see the children's smiling and happy faces. We're very appreciative of Holiday Inn for hosting this year's event. I want to thank the GM Stephane and Activities Director Mukti for all their support."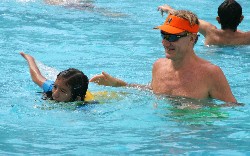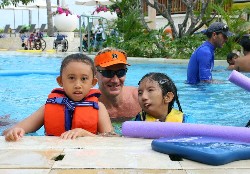 Resort GM Stephane Varoquier said, "We're very pleased to host this wonderful event to brighten the day for these special children. Holiday Inn Resort Baruna Bali is committed to supporting the Balinese community and improving the lives of the locals. We'd love to do this with Monte and Glenn and the children again sometime."
"I've been teaching swimming for more than half my life," said instructor Glenn, on holiday from Adelaide, Australia. "It's especially fulfilling to work with challenged children in the pool. I'm happy to team up with Monte and spend time with these kids while I'm in Bali and look forward to doing it again next year."
Hotel guests were invited to join in the fun and several participated by helping with the children in the pool. "This was one of the highlights of our trip," said John and Becky Livingston from Melbourne, Australia. "It was really fun helping and seeing the smiling faces on these kids."
Said supervisor Tanti from the children's foundation, "We are very thankful to Monte and Glenn and Holiday Inn. The children have so much fun and really enjoy this day. This is all they talk about weeks before and after the event and we can't wait to do it again next year."
Jimbaran-based YPAC is a non-denominational children's home for mentally and physically challenged youth. Their mission is to integrate the children to lead normal lives in society. The institute receives governmental funding, however, additional funds are required for specific needs such as:
Growing children need artificial limbs replaced; wheelchairs need repair and replacement; clothes, bedding, cleaning, cooking, and school supplies are needed, etc. A new bathroom expansion project (with wheelchair and prosthetic limb accessibility) requires funding.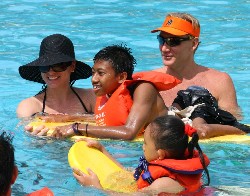 If you would like to visit the children's home or sponsor a child or project to improve the lives of these special children please contact:
Yayasan Pembinaan Anak Cacat
By Pass Ngurah Rai, Nusa Dua, 30 Km Jimbaran, Bali (0361) 771718
In addition to supporting YPAC and two other children's homes in Bali, Monte Monfore's swimming supports United Nations, UNICEF, UNDP, World Food Program, Millennium Campaign, Greenpeace, and WWF initiatives.
Photo credit: Agus Manik
Monte Monfore
081805357797
www.monteswimmer.com
www.OneOceanOneWorld.org